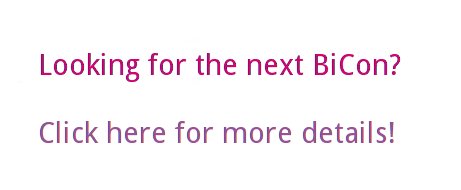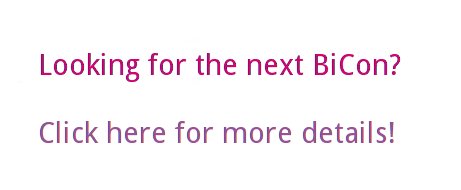 daily programme
the sixth international bisexual conference

The IBC6 programme booklet is getting closer and closer to printing.

From past BiCon experience, we should just about know what it should say on about August 31st, but fear not, it will be ready in all its glory for the start of conference on 24th.

Meanwhile, the provisional timetable is growing below.

We now have over 70 workshops and sessions scheduled (usually a UK BiCon has about 40) which means we are on course for a thoroughly excellent weekend!
Agenda
| | | | | |
| --- | --- | --- | --- | --- |
| 5 | Welcome sessions | | | |
| 6 | | | | |
| 7 | Welcome sessions | | | |
| 8 | | | | |
9

Business Plenary

9.30-11.00

Bi 101 : The Klein Sexual Orientation Grid and the 3 different types of bisexuals.

Games Session #1

Drama Queens and Gender Play

Workshops for Workshop Leaders

European Bi Network

11.15-12.45

Reel Bisexuals

Contact Ads game

Bisexual Women - fictional, historical and contemporary

How Some Marriages Last After a Bi Spouse Comes Out

Bisexual Identity

Bi Community News - Our very own newsletter

12.45-2.00

Mens social

Womens Social

Bisexuality and Religion/Spirituality, A Kindling the Flames of Spirit

Welcome session for 1st Timers in the bar

2-3.30

Growing Your Bisexual Organization

Negotiated sex. Communication about sexual interests

Serving Two Masters: Bisexual Theology and Western Religion/Spirituality

Research Roundtable

Non-monogamy for non-monogamists

3.45-5.15

International bi activism, past, present, future.

Changing our minds - acknowledging a new sexual identity in later life

Sexuality and spirituality

Naturism, nudity and bisexuality

Celebrating affection

6-7

Brief announcements
Welcome: Julia Grant
Keynote Speaker: Robyn Ochs

7-8

Personal Group

soc bi social

nudist social

8

Live Music in Games Room

Dale Dippple double Standards from 8.45

Single Bass 9.45

Mark Northfield 10.45

Millennium Cheese Disco Rides Again - very best of 70s & 80s music

sq hall
9

Business Plenary

CH1

CH2

9.30-11.00

Keynote Speaker: Peter Tatchell

Cross-cultural Comparison of Sexuality

What About Non-Bi Partners of Bisexual Men and Women?

Film Making

Coming Together: Queer Rituals

11.15-12.45

Bisexuality and Psychotherapy: A Roundtable Discussion

Out On Campus

Games Session #2

Taking you High

Body-Energetics for Relaxation

Two's company but three's allowed: Polyamorous marriages

Zine-a-Rama

1-2

11.00

2.00-3.30

International Internet Bi Communications

Rough n tumble games

Hang the DJ


3.45-5.15

Building on line communities.

Bisexuality and Monogamy

HIV / Sexual health panel

6

7

Spirituality Social

Librarians Social

Personal Group

SMbi's Social

8

Indie Disco Sq Hall
Popstarz style indie/pop disco.

Ecclectic Disco Games Room
ahiphoppunkloungegirlbandelectrothing
9

Business Plenary

LCA

LCB

LCC

CH1

CH2

CH3

9.30

Personal Account (spiritual panel)

Bijou and More? Networking for older Bi Women

European Bisexual Conference 2001

(Bi) Personal Ads - How to make them work!

Games Session #3

The work of IGLYO & Bi representation.

Poetry and Storytelling session.

11.15-12.45

Presenting the Bisexual Resource Centre

Parenting Workshop

Vagina Monologues

Vampires and Bisexuals

Bisexuality, community and change in the lives of some working class men

Working with Bisexual Youth

Handling Men

1.00

Book Launch

Poly Marriage Preparatory Social

2.00-3.30

School Sports Day

Bisexuality and Health

Making Music the Cheating Way

Sci-Fi

Nouvelle queerzine

Bi Jukebox

CH3: How the London Bisexual Group's 'Personal Group' has developed.

3.45-5.15

School Sports Day

Remembering our sacredness.

Teaching Bisexuality

Creative writing

Massage Workshop

Bi Films

6

Keynote Speaker: Wayne Roberts

7

Commitment Ceremony

Personal Group

8

Standup & Performance

Laura Stone 8.45

Dilshot Khot 9.00

Rosie Lugosi 9.45

Chloe Poems 10.45
9

Business Plenary

LCA

LCB

LCC

ch1

9.30-11.00

How Bi's Differ

Bisexual Helplines : What's involved in running one, who calls them and what they want to talk about.

Women who live with men (women only)

About Running BiCon

Tackling Biphobia

Bi Erotic writing and reading.

11.15-11.45

BiCon 2001, the 19th National UK Bisexual Convention: Team update

Bi Newsletters, and Bi Newsletter writing made simple

IBC7, Australia 2002 : Update

Transgender 101

"2 stressed": bi youth & mental health

1.00

A World of Possibilities, A World of Hope: Blessings for the Future

2.00

Closing Plenary Session:
Handover to BiCon 2001 and IBC7

3.00

Polyamory for the UK

Media Panel

4.30

Ends.
Timing and content of programme elements are subject to change or cancellation of course.
With many thanks to Marketing Manchester for programme cover images of the airport, tram, town hall and canal which are (c) Marketing Manchester
BICON® is a registered trade mark of BiCon Continuity Ltd, and is used with permission.
BICON® is a registered trade mark of BiCon Continuity Ltd, and is used with permission.