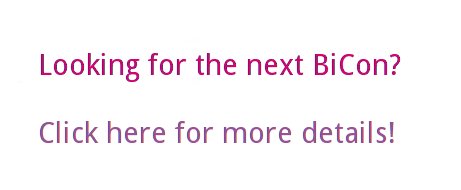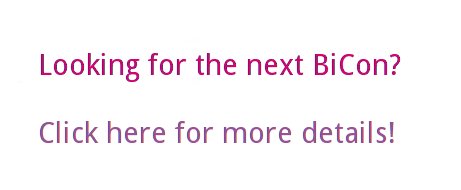 Access issues
What You Need To Know

Basic Access Issues

A few notes about access issues for people coming to BiCon.

The venue is largely accessible to people with mobility problems but with a good rate of attendance leading us to expanding the conference we have had to accept some spaces for workshops which are less accessible than those we originally chose.

There will be a creche and following some useful feedback from people who attended BiCon 1999 there should also be an extensive programme of activities for children.

We have arranged some sign language interpreting for BSL but need more volunteers or suggestions about this.

As always, we urge all those planning to come to BiCon to contact us about access issues they may have as far in advance as they can.

Equality Fund

Prices will be based on a sliding scale according to your income. There is an Equality Fund for UK attenders, which means that if BiCon runs at a profit, those in most need can get back some of the cost of participating in the conference. This is because the basic attendance cost is of the order of £100, and for someone whose income is £4000 this is a significant part of their annual income, whereas for those earning perhaps ten times as much, even a doubled attendance fee is a much smaller proportion of their disposable income.

We are asking those from overseas who can afford to to, to make a donation to help cover the costs of those IBC6'ers from overseas who cannot afford the full cost of attendance.

The Language Barrier

Note for international attendees: all materials will be in English and that will be the language of the conference.

We have taken on IBC6 at short notice and regret that provision of materials in other languages is not practical in the time we have available.
BICON® is a registered trade mark of BiCon Continuity Ltd, and is used with permission.
BICON® is a registered trade mark of BiCon Continuity Ltd, and is used with permission.