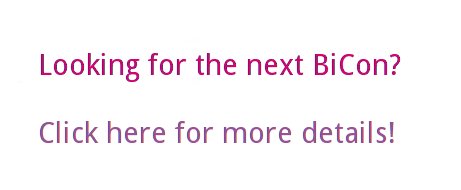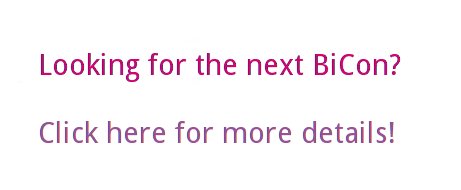 BiCon 2000 is the 6th International Bisexual Conference and 18th UK Bi Convention, all rolled into one. It coincides with GayFest and It's Queer Up North, so there will be plenty to keep you busy that weekend both onsite and around the city.

What's It All About?
BiCon is a long weekend of fun and frolics for bisexual people of all ages and genders, their friends, partners and allies. It includes all sorts of activities from discussion workshops and guest speakers to live music and discos.

BiCon 2000 will be held in the Oak House and Owens Park buildings of Manchester University. The venue is very compact and well served by public transport.

Accomodation is totally self catering but don't panic as there are 3 supermarkets within about 10 minutes walk, and an assortment of takeaways within 5 minutes which stay open until around 5am.

The international BiCon IBC6 and 18th UK BiCon are a combined event. The original team behind IBC6 in the Netherlands had to cancel at relatively short notice, and the UK team have agreed to incorporate an International programme into an already planned BiCon 2000 event, so the programme will be a little different from a 'normal' IBC.

Been before?

The whole event will be on one site as was the case at Edinburgh and Cambridge, rather than spread out in the manner of Kingston or Greenwich..

The convention runs for an extra day compared to the usual three day BiCon, since it's a Bank Holiday weekend and so fewer people will need to be back in work on the Monday.

What's The Accommodation Like?

Onsite accommodation will be in single bedrooms. These are in blocks of eight. Each block has its own showers, bath, toilet, large kitchen and sitting room. The cost of accommodation does not include any food but there are several cheap supermarkets nearby and a good range of cooking utensils, crockery and cutlery in each kitchen.

Accomodation fees are for the whole period of BiCon. Because of the bank holiday this is the only option we have available for onsite accomodation. Remember when checking the accomodation prices that the figure includes the Thursday 24, Friday 25, Saturday 26 and Sunday 27 nights of conference - and the Monday 28 August night after conference ends should you need or want to stay on for the extra night. This also means there isn't the need to vacate bedrooms by 10am on the final day of BiCon and stash your bags in a workshop space which has been the case at some past BiCons.

Offsite accomodation is available in various hotels and hostelries - for details of some nearby options see the booking page - in general these cost more if you are staying for the whole weekend than accomodation onsite, and the chances are you won't have as much fun either!

Ground Rules

BiCon is a happy, respectful, tolerant space and anyone who persistently tries to make it otherwise may be asked to leave.

We will not act as a platform for prejudice or pander to bigotry, and this will inform our policies on for example gender specific spaces.

BiCon is run by a team of volunteers and you should respect them as such.

The BiCon Top Dog's word on any matter is fair, just and final!
BICON® is a registered trade mark of BiCon Continuity Ltd, and is used with permission.
BICON® is a registered trade mark of BiCon Continuity Ltd, and is used with permission.